I'm currently in grad school.  I'm conducting a literature review of professional articles about my research topic (Professional Learning for Educators) and this morning I was worrying about how to keep all the things I learn organized.  I know I used to use multi colored index cards (or highlight in multi colors) to identify themes, organize into paragraphs and write a cohesive message.  However, on the way to the store to buy index card (cause who has them these days?) I remembered how many times I dropped the cards and lost my organization completely and the couple of times I forgot my cards at home and lost valuable work time and even worse, the two times in my life that I completely lost those cards…and had to start over.  How many times have our students encountered these challenges?  Is there a better way?
(it's a good thing I was in a bunch of traffic this morning… that's a lot of reflecting about index cards!)
So I came up with the idea of using something that I can't lose, that gives me unlimited color space and that I wouldn't have to buy… Google Slides. The grid view is incredible (Alice Keeler wrote about it here: https://alicekeeler.com/2018/02/15/google-slides-watch-students-collaborate/)
I can't lose these cards
Available everywhere (even on my phone) for bonus work time
I can duplicate and color code background
Grid view gives me a broad view without spreading cards out on the table
Color coding lets me identify trends and organize into themes
To re-sort or re-organize, I just have to drag them around in the grid
I'm sure there are more benefits, but I just got started today!
First I decided on a template – simple is best for me.  Each slide included a space for title, citation and summary/notes. Each time I found a new resource, I just right clicked and duplicated and added the new information.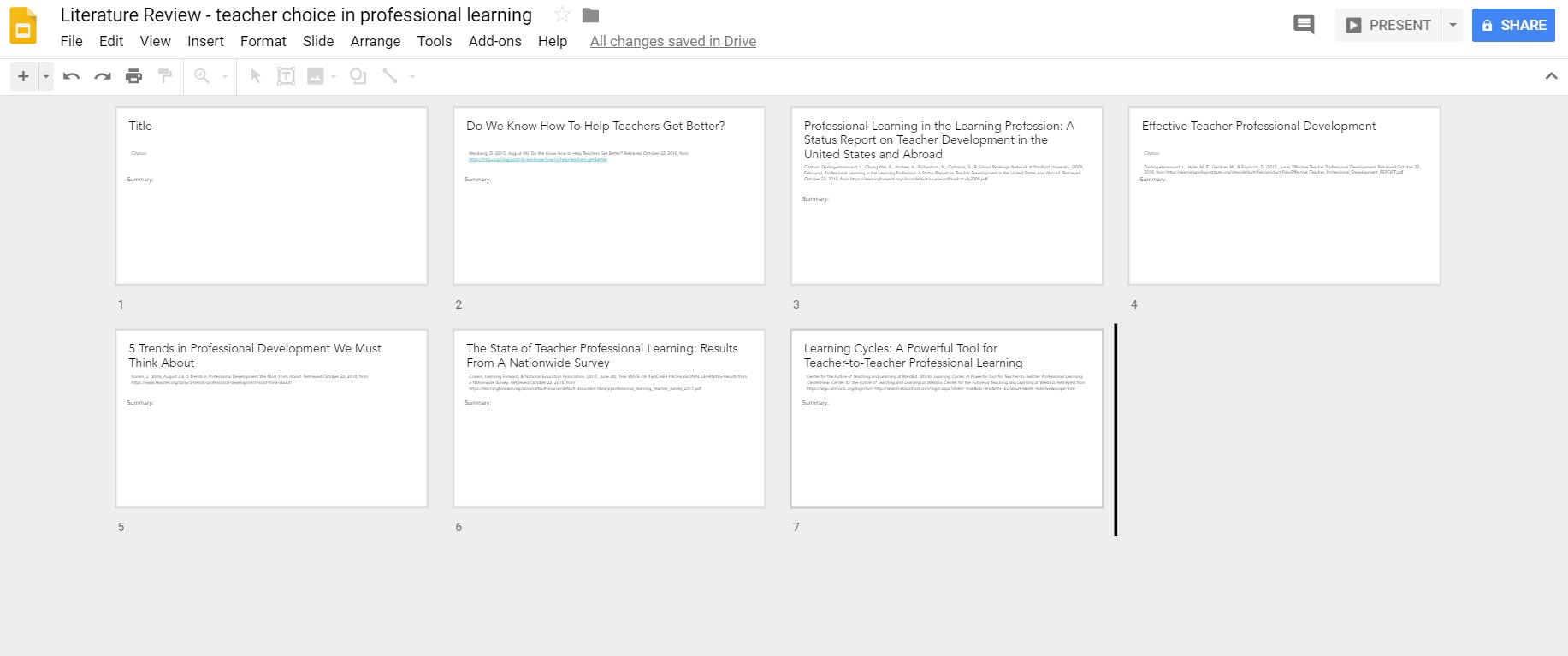 As I took notes and started to identify themes that emerged, I made a color coded key on the first slide.  I started changing the backgrounds (right click –> background) to the colors.  If a resource supported multiple themes, I duplicated and made one for each color.  This allowed me to see how widespread a theme was just by glancing at the grid.
So far, this is working.  You'll see the resources I haven't read yet and still need to take notes on are white background in the above picture.  As I continue this work, I will add any other ideas for organizing and using this to get started writing.
I think this is an awesome method to share with students.  Giving them choice and helping them to self-identify what works best for them is our ultimate goal.  This means we have to have experience multiple methods of working with a variety of tools (the experiences I've had in the past helped me reflect and identify areas I needed to improve).  When we have experiences we can model the reasons we choose what we do for our students.  Think-alouds and sharing why we do what we do is a great way to help empower students to reflect on their own needs.